The headcount at 400 of the largest law firms in the U.S. has grown between 1 and 2 percent per year. Revenue growth in 2016 was also modest, 1.2, and 4.3 percent.
And then there are virtual law firms.
Virtual law firms shun the large, traditional office environment, preferring the home office, remote work, and cloud-based technology. Headcount growth for virtual law firms typically hovers between 15 and 30 percent per year;  revenue growth is listed at 50 percent or more.
Why virtual law firms outperform traditional firms
Traditional firms are struggling to grow.
Traditional firms are fighting for an ever-shrinking piece of the paying client pie. Chris Batz, a recruiter at The Lion Group, discussed the elephant in the room. "The first-adopter skepticism has shifted, and the business model has been proven," Batz said. "People shrugged their shoulders a decade ago and thought it was a joke. Over 10 years later, it's become a very compelling option."
It makes sense then that employees are abandoning the traditional for the virtual. There's more freedom, growth, and opportunity with virtual law firms.
Take a look at the growth rates of four virtual law firms.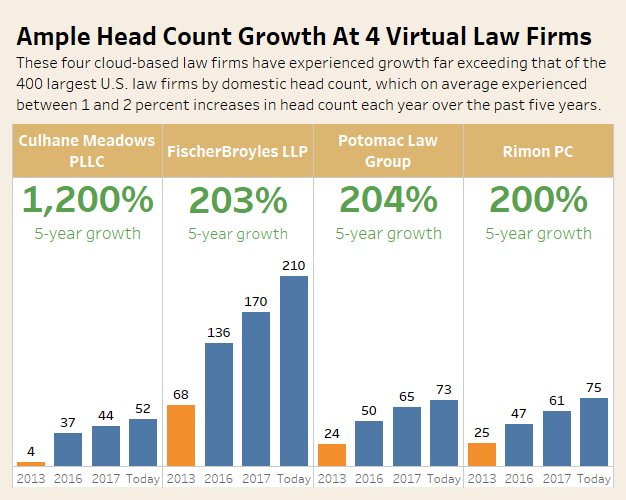 Traditional law firm growth rates, if they're growing, are nowhere close to these numbers. Why are virtual firms so appealing to so many?
Clients love virtual law firms because they can get a much better team (and representation) for a lot less money. A partner at traditional BigLaw may bill at $900 an hour, but $550 an hour at a virtual firm.
Attorneys love virtual law firms because they keep 70 to 80 percent of the business they bring in, compared to the 30 to 40 percent they'd be lucky to receive at a traditional firm. This is reminiscent of the eat-what-you-kill compensation model.
Shareholders love virtual firms because of the huge financial upside — increased cash flow, revenue, and profit, distributed in a way that's more satisfying to shareholders and partners.
These are just the broad strokes.
The benefits for virtual firms far outweigh the downsides; it's something the legal industry has begun to pay attention to. What's not clear is how you go about establishing a virtual law firm, especially one that's capable of outperforming traditional law firms on a routine basis.
What virtual law firms need to outperform
The structures you need to build a successful virtual law firm are the very same ingredients you need to build a successful traditional firm. They're fundamental components every organization needs to grow successfully. Here are the essential elements you need to build a successful legal practice.
Financial management. Cash flow is to a business what blood is to your body. This is the foundation of your virtual law firm. If you don't have a clear set of guidelines to govern cash flow, you won't be able to keep cash flowing into your firm.
Communications management. Poor communication = a cash-poor legal practice. Communications management covers internal and external communication — sales, marketing, business development, origination, etc.
Systems management. This refers to the rule sets that maintain standards and performance. It shows employees (who aren't knowledgeable veterans) how to produce the results you need and how to sustain firm-wide quality standards you've set.
Legal management. This is your area of expertise. From a firm management standpoint, legal management is all about managing risk.
Service management. The part of your business your clients pay you for. It's an important part of a healthy law firm; it's also the client-facing portion of your organization. That said, it's also the least important part of your firm. If your service is amazing, but you have poor cash flow management, for example, long term survival is unlikely.
How is this helpful?
If you're using the same ingredients, how can you outperform traditional law firms? You can apply these fundamentals.
Virtual law firms: Applying these fundamentals is easier, but it comes with more risk. If employees aren't tracking their time appropriately, for example, it's more devastating to your firm.
Traditional law firms: Applying these fundamentals is more difficult but comes with less risk. Why less risk? A failure to perform is immediately apparent; consistent mistakes are more visible.
Most law firms don't have these fundamentals in place. Here's a list of comprehensive guides, covering a variety of topics you'll need to establish these fundamentals for your virtual law firm.
Financial management
Communications management
Systems management
Each of these guides provides you with the data you need to build a strong virtual law firm. Why no details on the legal and service areas of lawyering? It's your area of expertise, the part of your firm you can manage.
It's an area you're probably already equipped to handle.
If you have these ingredients in place, you're ready to talk about the firm power-ups every firm needs, but most firms don't have.
Power-up #1: What virtual firms need to beat traditionalists
Some firms have it. A hidden aura about them that seems to attract client attention effortlessly; it's as if clients are automatically drawn to their presence. As if these firms can do no wrong.
What is that? That, my friend, is your value proposition. With the right ingredients, your firm can produce that same hidden quality other firms dream about.
But, only if you're willing to pay the price.
What exactly is a "value proposition?"
A value proposition is a communication tool, a unique (one of a kind) promise to clients.
It can be implicit or explicit. It's that one, specific, measurable thing that sets your law firm apart. It's a persuasive, results-driven argument that gives clients a compelling reason to work exclusively with your firm.
It's intimidating. A strong value proposition is carefully crafted and very compelling. It's comprised of four specific elements.
Appeal. This is something I really want
Exclusivity. I can't get this from anyone else, anywhere
Credibility. I believe your claims
Clarity. I understand your claim
Most law firms, when asked, provide clients with a generic set of answers. Most of the time, these answers fail at least one of these four criteria. Ask attorneys the question: "what makes you unique?" Almost inevitably, you get generic answers across the board.
You'll receive answers like:
We have some of the best attorneys around
We work really hard
We value our clients
We care about our clients
We'll handle your case from start to finish
These answers don't convey value; they conceal value. They're the generic details clients are quick to speed past. Why does a strong value proposition matter?
It's a differentiator. It's a way for clients to quickly (and neatly) assess your firm. To filter and sort through the hundreds or thousands of firms competing for their attention and their dollars. Your value proposition gives clients the ability to answer fundamental questions about your firm.
Who are you?
What can you do for me?
Why should I trust you?
Have you served anyone like me?
True uniqueness, in the form of a strong value proposition, shapes client perceptions. It generates the spark they need to take a chance with your firm. Once they're in, your performance generates the trust and faith they need to continue working with you.
Which is an obvious benefit, right? But there's another good reason to create a strong and compelling value proposition.
Your moat.
Warren Buffett, legendary investor, coined the term "economic moat."  He defines an economic moat as the competitive advantage one firm has over their competitors. An economic moat accomplishes two things (1.) It enables your firm to dominate the marketplace and (2.) It keeps competitors at bay – often indefinitely.
All from your value proposition.
When I use the word "moats," what do I mean specifically? Let's take a look.
Brand moat. Clients are willing to pay more because they trust your brand or believe in your reputation. Research consistently shows clients are eager to spend more on brands. Think Coca-Cola, Mercedes-Benz, and Skadden, Arps, Slate, Meagher & Flom.
Secret moat. This typically refers to a process or intellectual property that makes direct competition with your firm difficult. This could be your client lists, a unique process, a proprietary database, or unique training methodology. It's something that's created or developed organically, and it gives firms a competitive advantage in the marketplace.
Toll moat. These are firms with exclusive or dominant control of a market or niche. This control means you're typically the only game in town. Clients must come to you if they want "it." Google, Comcast, and your internet and utility company are all examples of toll moats.
Switching moat. This is a firm that's enmeshed in their client's business. There are varying degrees of enmeshment. It can be as simple as knowing everything there is to know about your client's matter or as complex as equity stakes and co-ownership. The idea here is simple. Clients can switch at any time, per their agreement, but doing so is more hassle than it's worth.
Price moat. You're able to compete via a significant price (low or high) advantage. You're able to provide clients with a price they're unlikely to get anywhere else.
Performance moat. You're able to produce results or outcomes other competitors cannot consistently. You bring your experience, expertise, and knowledge to bear in a way that's measurable but difficult for other competitors to match.
There's a thin line here. Legal and ethical guidelines constrain you. This is a very good thing, but it also requires that you tread carefully. It's illegal and unsavory to trap clients in a predatory relationship. It's reasonable to use the golden handcuffs, legal benefits that encourage or motivate clients to stay.
You'll need to be careful.
That said, you need a strong value proposition. Simply presenting yourself as yet another option is no longer an effective strategy. Creating a strong value proposition is how you outperform your competitors by 1.5x.
Let's say you have it. You've created a strong value proposition, one that appeals to incoming clients. How are they going to respond?
Clients will approach you with reverence
They'll be respectful and appropriate. This isn't altruism, it's desire.
A compelling value proposition generates intense desire in your clients. It motivates them to do whatever it takes to secure your help. This is the response clients should have to your firm.
This could mean you're:
Developing a unique service process (i.e., hiring all-star associates, litigating, drafting documents, etc.)
Making a compelling promise, one you're legally able to make (i.e., all calls returned within 2 hours, day or night)
Creating a strong, trustworthy brand via consistent advertising, a powerful review profile, and branding (i.e., Skadden)
Creating helpful software, sharing it exclusively with clients, free of charge (i.e., real estate deal finder)
Offering add-on services, tools, and resources to create the "golden handcuffs"
Creating innovative-yet-legal alternative fee arrangements (e.g., fixed fee, subscription or insurance models)
Your value proposition is a unique (one-of-a-kind) promise to your clients. It's that one, specific, measurable thing that sets your law firm apart. It's a persuasive, results-driven argument that gives clients a compelling reason to work exclusively with your firm.
It's a differentiator. A way for clients to quickly (and neatly) assess your firm. To filter and sort through the hundreds or thousands of firms competing for their attention and their dollars.
Traditional law firms are struggling to compete
If experts are correct, we may be entering into yet another recession. Traditional firms were growing at 1 to 2 percent each year before pandemics, and protests changed the course of our economy. Revenue growth was modest.
Virtual law firms have changed the game.
They're outpacing traditional firms, and they're doing it in a consistently quantifiable way. These law firms provide clients, attorneys, and shareholders with the kind of win/win value they're looking for. Clients get better representation and value for less. Attorneys receive more money, time, and freedom, and shareholders receive a huge financial upside.